We are excited to share that the learning content in GLEN Learn, GLEN World's flagship learning app for young English Learners, is now closely aligned with two research-backed school readiness assessments, the Kindergarten Student Entrance Profile (KSEP) and the Desired Results Developmental Profile (DRDP). KSEP and DRDP are used in school districts in California to assess school readiness for children as they enter Kindergarten, in order to identify children who might need additional help. With the recent enhancements to GLEN Learn, parents and preschool teachers can better prepare children for their academic journey as they enter Kindergarten. GLEN Learn is also ideally suited for addressing gaps in school readiness for children in Kindergarten and Transitional Kindergarten.
GLEN Learn remains free and ad-free and is being used by children all over the world. Within California, our goal is to reach the growing population of English Learners who need help getting ready for school. Lack of Kindergarten Readiness in young English Learners impedes their academic achievement in K-12 and beyond, which in turn prevents millions of children from realizing their true potential in society and the workforce. With the continuing evolution of GLEN Learn, we are addressing this challenge head-on, working closely with partners who are deeply knowledgeable about these issues.
The content evolution in GLEN Learn has benefited tremendously from feedback that we have received from teachers and staff at pre-schools serving English Learners, including Isla Vista Youth Project and Storyteller Children's Center. Donna Barranco Fisher, former Executive Director of Storyteller who recently joined our board, is helping us build the partnerships needed to ensure that GLEN Learn becomes an integral part of the ecosystem supporting young English Learners.
The Kindergarten Student Entrance Profile (KSEP) [1] is a screening tool used to evaluate social-emotional development and school-ready knowledge. It was developed about a decade ago by Professor Emeritus Mike Furlong and Professor Matt Quirk from the UC Santa Barbara Gevirtz School of Education in collaboration with school districts in Santa Barbara County. We are fortunate that both Mike and Matt are part of the GLEN World team, with Mike having recently joined our board. The KSEP includes seven items related to school readiness knowledge identified in school readiness literature, with an associated rubric for each item's four readiness ratings (1 = Not yet, 2 = Emerging, 3 = Almost Mastered, 4 = Mastered). See the picture below [2] for details regarding the school-ready knowledge elements and the associated rating rubric.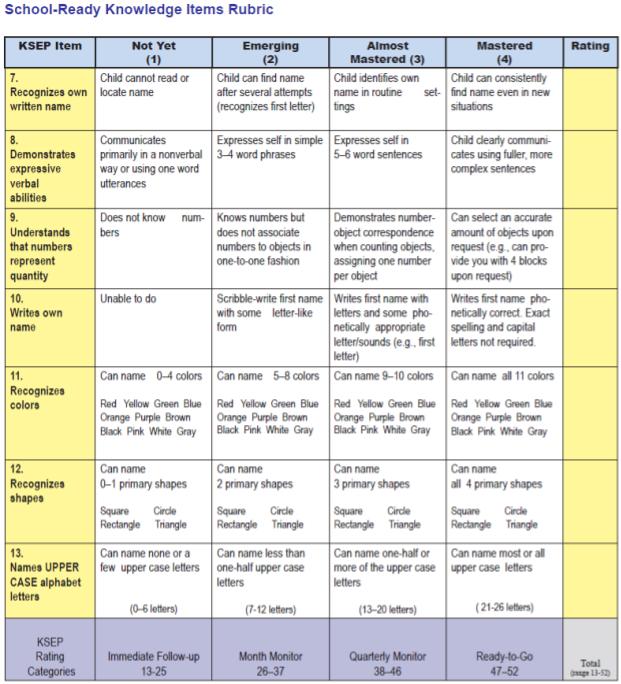 The California Department of Education (CDE), Early Learning and Care Division (ELCD) established the Desired Results System to assess and improve the quality of early care and education programs across California. The Desired Results System consists of six Desired Results (see picture [5]), program standards, and assessment tools. Desired Results Developmental Profile (DRDP) is an observational assessment tool that assists teachers gauge children's growth and development on a development continuum. The DRDP assessment informs the teacher about each child's progress and provides concrete information for tailoring learning activities to meet their developmental needs [6,7]. English Language development measures are an important component of the DRDP assessment.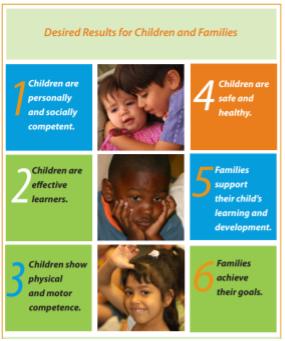 We have significantly expanded our lessons and have added several new modules, including Phonics, Alphabet, and Shapes & Numbers, in order to target essential skill domains identified in the KSEP and DRDP frameworks. We revamped the app's reward structure to celebrate learner achievements and keep the learner engaged and excited to learn, in a manner that is consistent with our goal of instilling academic purpose in children. Assessment and skill-strengthening modules are built into the app. After every group of lessons, the learner needs to clear an assessment in order to obtain access to the next group of lessons, so that progress through lesson groups is tied to advances in literacy skills. If a learner does not clear the assessment, a skill-strengthening module automatically pops up, reinforcing skills that the learner needs help with. A parent or teacher can easily see a quick snapshot of a child's progress via an in-app dashboard.
While we are aligned with KSEP and DRDP, we do not "teach to the test." Our goal is to build up confidence in children by engaging them in the key concepts identified in these school readiness standards.  We do include separate school readiness assessments within the app modeled on the academic aspects of KSEP, to check whether our coverage of core skills is effective when we ask questions whose format does not necessarily conform to those on the main app.  As a parent or teacher, you can ask a child to take these assessments at any time to get snapshots of their progress. These assessments are brief, and the child does not see any scores, so they feel more like a game than a test.
In addition to in-app progress tracking, for partner organizations, we provide a web-based dashboard with analytics on the progress of individual learners as well as a cohort of learners. This includes detailed information regarding learner progress and engagement in the lessons, including scores from school readiness assessments which are hidden in the app.
With these enhanced app features and learning content, teachers and parents using GLEN Learn for their children should notice improved learning outcomes and skill assessment scores with regular, timed usage of the app coupled with in-person activities.
The Covid-19 pandemic has brought home the impact of socio-economic disparities and the digital divide. The learning loss with Covid-19 has been particularly acute for English Learners whose parents do not have the resources, the educational background or the time to help children learn at home. The need for effective and accessible content for self-paced learning could not be more apparent, and our team is working hard to meet this need. Our illustrated children's stories, rhymes, and learning content have always been freely accessible on our website. We have enabled Guest access, which bypasses registration/login, to provide an open invitation to learn with our content, and to enjoy our stories. We released our GLEN Books mobile app in 2020, and will soon release our GLEN Learn mobile app. Our mobile apps work offline, enabling children to engage with our content without requiring Internet access.
As always, your support is critical as we work with our partners to help our children face the educational crisis catalyzed by the pandemic. Please join us in our mission and consider donating to GLEN World to help sustain our efforts.
References
Quirk, M., Dowdy, E., Carnazzo, K., & Goldstein, A. (2017). School readiness as a longitudinal predictor of social emotional and reading performance across the elementary grades. Assessment for Effective Intervention, 42, 248-253.
Quirk, M., Mayworm, A.M., Edyburn, K., & Furlong, M. (2016). Dimensionality and measurement invariance of a school readiness screener by ethnicity and home language. Psychology in the Schools, 53, 772–784.
Quirk, M., Nylund-Gibson, K., & Furlong, M. J. (2013). Exploring patterns of Latino/a children's school readiness at kindergarten entry and their relations with grade 2 achievement. Early Childhood Research Quarterly, 28, 437–449.
Quirk, M., Grimm, R., Furlong, M., & Nylund-Gibson, K. (2016). The association of Latino children's kindergarten school readiness profiles with grade 2-5 reading achievement trajectories. Journal of Educational Psychology, 108(6), 814-82.